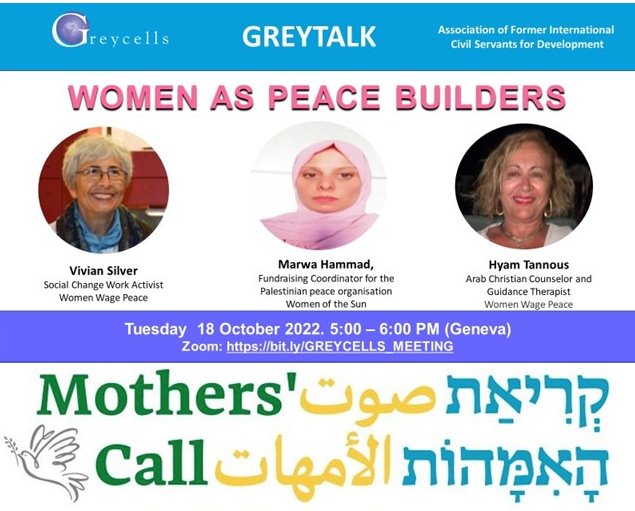 (Click the image to watch the Greytalk)
---
Speaker's Bio's
(Click the images to access the Bio's)
---
(Click the images)
---

We, Palestinian and Israeli women from all walks of life, are united in the human desire for a future of peace, freedom, equality, rights, and security for our children and the next generations. We believe that the majority of the people of our nations also share our mutual desire.
Therefore, we demand that our leaders listen to our call and promptly begin peace talks and negotiations, with a determined commitment to achieving a political solution to the long and painful conflict, within a limited time-frame.
We are calling on the peoples of both nations – Palestinian and Israeli, and peoples of the region to join our call and demonstrate their support for the resolution of the confl
We are calling on the women of the world to stand by us for a future of peace and security, prosperity, dignity and freedom for ourselves, our children and the people of the region.
We are calling on people of peace, both young and old, religious leaders, people of influence, community leaders, educators, and whoever this is­sue is close to their hearts, from all over the world, to add their voices to our call.
We are inviting our leaders to be committed to the voice and will of the peoples in this call for the resolution of the conflict and achieving an inclusive, just peace. We are committed to taking an active role in the negotiation process until its successful resolution, according to UN Resolution 1325.
We are calling on our leaders to show courage and vision in order to bring about this historical change, to which we all aspire. We join hands with determination and partnership to bring back hope to our peoples.
_________________
Nous, femmes palestiniennes et israéliennes de tous horizons, sommes unies dans le désir humain d'un avenir de paix, de liberté, d'égalité, de droits et de sécurité pour nos enfants et pour les générations à venir. Nous croyons que la majorité des peuples de nos nations partage également notre désir mutuel.
Par conséquent, nous demandons à nos dirigeants d'écouter notre appel des mères et d'entamer rapidement des pourparlers de paix et des négociations dans un engagement déterminé afin de parvenir à une solution politique à ce long et douloureux conflit dans un délai limité.
Nous, femmes palestiniennes et israéliennes appelons les peuples des deux nations – palestinienne et israélienne, ainsi que les peuples de la région, à se joindre à notre appel et à manifester leur soutien à la résolution du conflit.
Nous appelons les femmes du monde entier à se tenir à nos côtés pour un avenir de paix et de sécurité, de prospérité, de dignité, de justice et de liberté pour nous-mêmes, nos enfants et les peuples de la région.
Nous appelons les personnes de paix dans le monde entier, jeunes et moins jeunes, les chefs religieux, les personnes d'influence, les dirigeants communautaires, les éducateurs et tous ceux à qui cette question tient à cœur, , à ajouter leur voix à notre appel.
Nous invitons nos dirigeants à s'engager pour faire entendre la voix et la volonté des peuples dans cet appel, afin de mettre un terme au conflit et d'établir une paix juste et inclusive. Nous nous engageons à jouer un rôle actif dans le processus de négociation jusqu'à ce qu'il soit mené à bien, conformément à la Résolution 1325 du Conseil de Sécurité de l'ONU.
Nous, femmes palestiniennes et israéliennes, demandons à nos dirigeants de faire preuve de courage et de vision afin de réaliser ce changement historique auquel nous aspirons toutes et tous.
Main dans la main, nous sommes déterminées à agir ensemble pour redonner espoir à nos peuples.